Premium granite decking systems,
available throughout the UK
Our innovative granite decking systems combine a premium granite surface with an underlying support structure based on technology from the raised access flooring industry. This simple and straightforward structure can be laid over an uneven static base and adjusted to create a finished floor height that is level within an overall tolerance of ±3mm. This process also creates a practical, easily accessible void space underneath the granite that can be used to conceal services such as lighting, heating, pipework, and air conditioning from view. Granite decking has a neat and modern appearance that creates a contemporary atmosphere wherever it's used, making it a perfect choice for property developers, landscape gardeners, and architects hoping to create eye-catching outdoor spaces.
What makes granite an excellent decking material?

Sleek and modern appearance
Granite is a perfect fit within professional environments and luxury properties.

Highly durable surface
Granite is a hardwearing, long-lasting material with an extensive lifespan.

Low maintenance
Granite can simply be swept or power washed clean when necessary.

Slip resistant
Our granite conforms to BS EN 1341, has an R13 rating (best) and has excellent grip, making it ideal for outdoor use.

NON–COMBUSTIBLE SYSTEMS WITH A1/A2 FIRE RATING
Our Granite Decking systems meet EuroclassA1FL and A1 fire rated paving.

Weatherproof
Granite easily withstands cold, hot, and wet weather and does not discolour, making it a hassle-free choice for outdoor decking.

Natural material
Granite provides an authentic and eye-catching finish that can't be matched by manmade alternatives.

Versatile finish
Natural granite planks have a unique finish that will change appearance depending on the amount of light and water they come into contact with.
Tell us
about your project
If you have a project in mind, talk to a member of our team and we'll make sure that your granite decking system meets all your requirements.
You can call us on 0800 246 1222 or email sales@granitedecking.co.uk.
How do granite decking systems work?
Our granite decking systems combine a high-quality, hardwearing granite surface with technology that is used throughout the raised access flooring industry. Their simple structure is made up of three components which fit together without the need for any screws to stabilise the granite planks.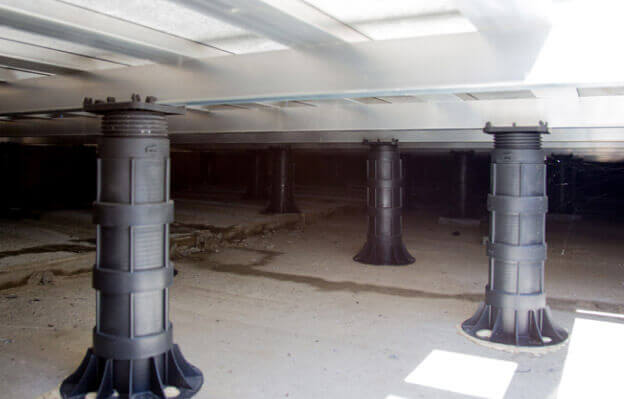 Height-adjustable pedestals
These polypropylene plastic or steel coated height-adjusted pedestals are fixed in place using an adhesive and can be individually adjusted to create a finished floor height that is level within an overall tolerance of ±3mm. They also have a void rating between 10mm – 600mm (beyond for bespoke installations). The precise control this provides means that the system can even be laid over an uneven static base.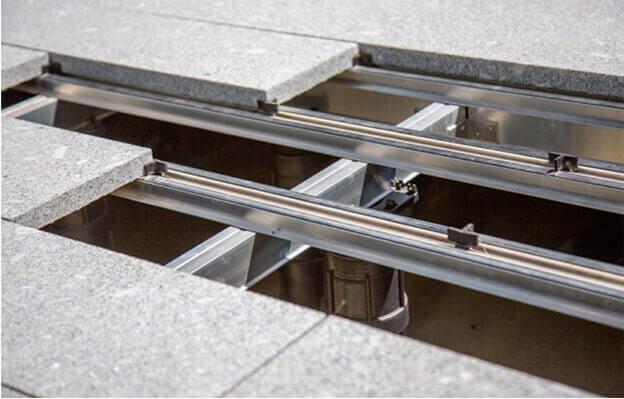 SUPPORTIVE ALUMINUM FRAMEWORK
A cross sectional aluminium framework (top and primary rails) is used to help support the weight of the granite surface and create a practical void space that can neatly conceal services that you'd like to keep out of view. This frame is lightweight, rustproof, and remains stable at all times, even when the granite planks are removed.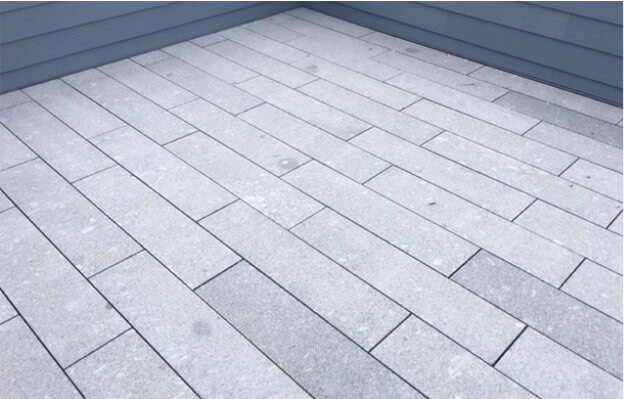 Durable granite planks
Granite planks are laid over the aluminium frame to create a hardwearing decking surface that provides easy access to the underlying void space. Small preformed gaps are left between adjacent planks, so water can quickly drain through.
Decide the right
approach for your project
Choose between our supply and installation services.
The simple structure of our granite decking systems ensures that they can easily be fitted by a competent installer. We even provide a helpful installation guide along with all the materials you need. However, if you have a large or complicated project in mind or you'd prefer expert assistance, our experienced installation team will be happy to carry out the work on your behalf. No matter which approach you choose, all the components used within your granite decking system will be covered by warranties for your peace of mind.
Made-to-order
accessories
Personalise your granite decking system and tailor it to your requirements. We offer a range of accessories such as steps, ramps, and handrails that allow you to make the most of your outdoor space.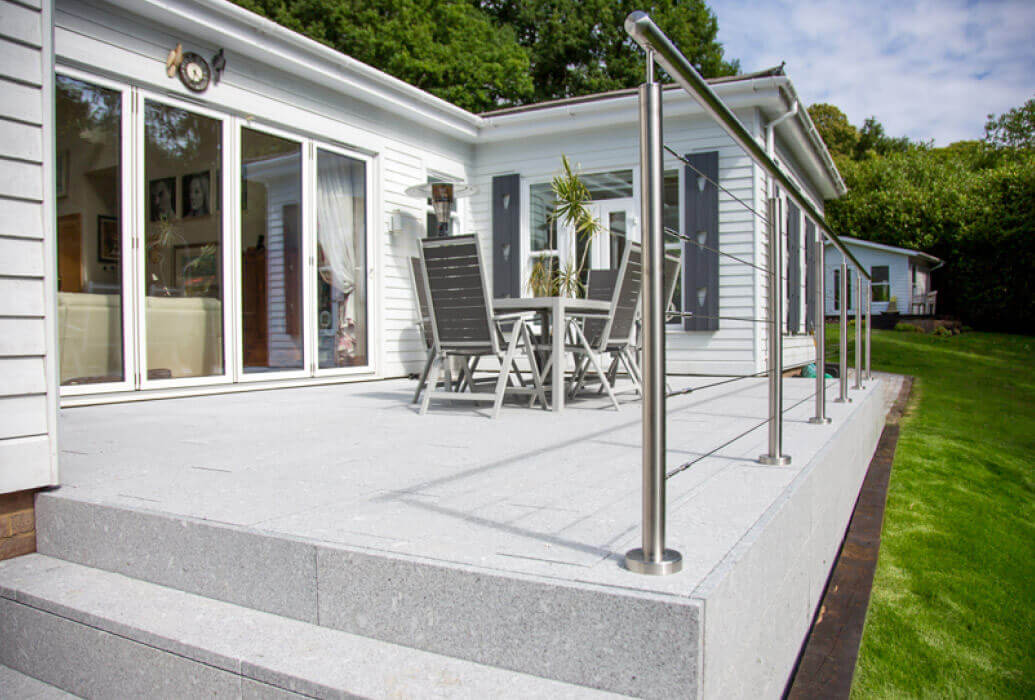 Accreditations

Contact
Granite Decking UK