Why choose
granite as a

decking material?
Granite has a number of practical benefits that make it an ideal choice for decking. Here are some of the key reasons why we believe that granite is the best option on the market:
Sleek and modern appearance
Granite decking has a smooth, seamless surface that is equally suited to luxury properties, roof terraces, sun decks, balconies, patios, walkways, and professional environments. This premium material creates a contemporary atmosphere and is perfectly complemented by a raised access floor under structure that can be adjusted to create a void space that suits your requirements. This underlying void can be used to protect electrical and mechanical services and store them neatly out of sight.
Highly durable surface
Granite is a highly durable material that will maintain its appearance throughout its long lifespan. It has a high flexural strength and shockproof factor that makes it extremely unlikely to crack or chip in normal circumstances. This makes it an excellent investment as, once installed, its hardwearing surface will easily withstand years of wear and tear caused by regular use.
Low maintenance
Granite is extremely easy to live with. Unlike other decking materials such as wood or composite, there is no need to maintain granite to keep it looking presentable. Our granite planks won't fade over time and they won't need to be refinished either. You can simply sweep away any debris and, if a more thorough clean is warranted, granite is resilient enough to be power washed.
Tell us
about your project
If you have a project in mind, talk to a member of our team and we'll make sure that your granite decking system meets all your requirements.
You can call us on 0800 246 1222 or email sales@granitedecking.co.uk.

Slip resistant
All our granite conforms to BS EN 1341 and has an R13 rating (best), demonstrating that it possesses the slip resistant properties required for safe use within an outdoor decking system. It is not prone to mildew, mould, algae, alkali or UV wear and is free from rust, termites, and fungal decay. You can choose between a sandblasted or flamed finish, both of which will ensure there is sufficient surface variation to provide grip underfoot.

NON –COMBUSTIBLE SYSTEMS WITH A1/A2 FIRE RATING
Granite Decking systems meet EuroclassA1FL and A1 fire rated paving. Super strong aluminium Rails (TOP & BOTTOM) are fixed together to create a lattice framework with the maximum possible level of support for our finished Granite Planks.

Weatherproof
Granite's ability to cope with varied weather conditions makes it a hassle-free choice for outdoor decking. It is not adversely affected by heat, preventing the planks from warping over time and ensuring that the surface remains cool to the touch during the summer. Granite is also frost resistant and won't absorb water, so planks won't split during freezing conditions. We also leave preformed gaps between adjacent granite planks so that surface water can quickly and easily drain away.
Natural
material
Granite is a beautiful, natural material that provides a high-quality finish that cannot be matched by manmade alternatives. The slight natural variance within each stone plank catches your eye and signals that you're looking at an authentic product. There's also no need for harmful plastic or chemical additives to keep granite at its best. Once quarried, it will provide a lifetime of use.
Versatile finish
Used as a decking surface, granite is extremely versatile. The exact appearance of the surface will vary between planks and depending on the way that it catches the light, but also on how wet it is. There are often considerable changes in colour between dry and wet granite and this creates two distinct, weather-dependent finishes for you to enjoy. Nonetheless, the consistency of the surface allows you to swap and replace planks as desired.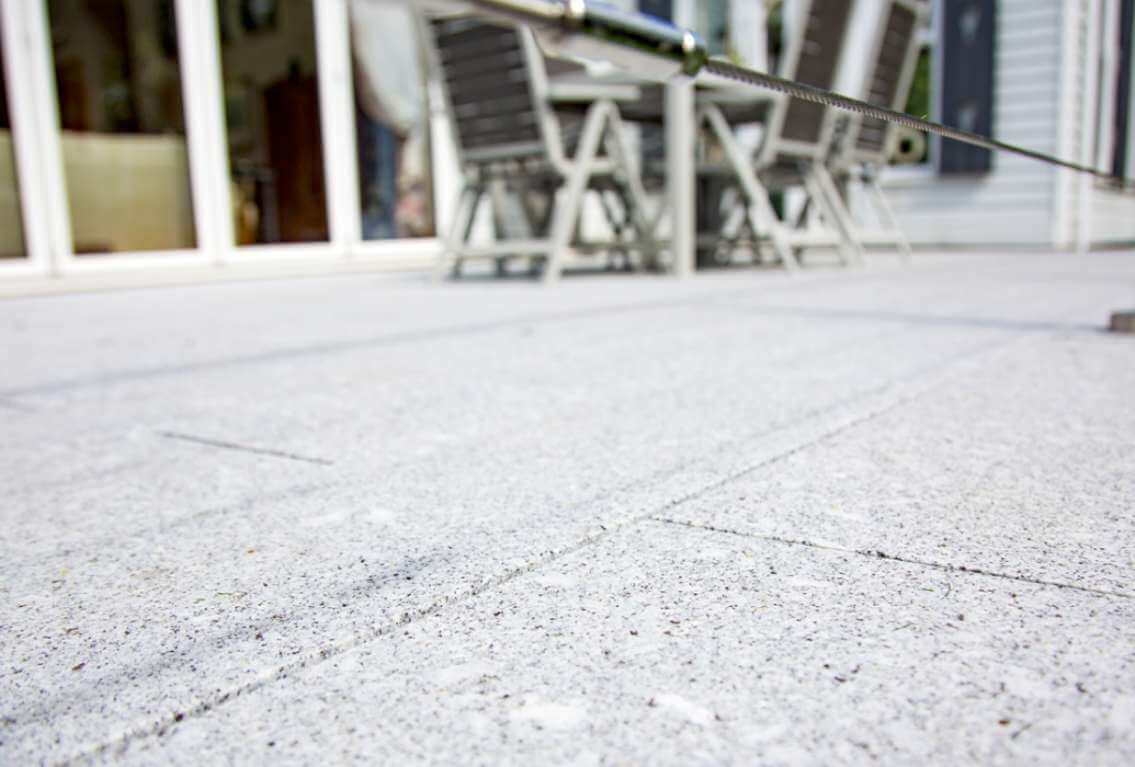 Contact
Granite Decking UK