How do
granite decking

systems work?
Our granite decking systems combine a high-quality, hardwearing granite surface with technology that is used throughout the raised access flooring industry. This involves the installation of an underlying structure that supports the granite planks and creates an accessible void space that can be used to neatly conceal services such as lighting, heating, pipework, and air conditioning. The result is a sleek, modern surface that is highly functional and creates a contemporary atmosphere wherever it's used.
Tell us
about your project
If you have a project in mind, talk to a member of our team and we'll make sure that your granite decking system meets all your requirements.
You can call us on 0800 246 1222 or email sales@granitedecking.co.uk.
Simple and straightforward construction
There are just three key components used within our granite decking systems, making them simple to install. These components fit together without the need for any screws through the granite planks, allowing the surface to be lifted out of the way whenever there's a need to access the space underneath. This provides flexibility that cannot be matched by alternative materials such as wood or composite, as these are fixed in place during installation.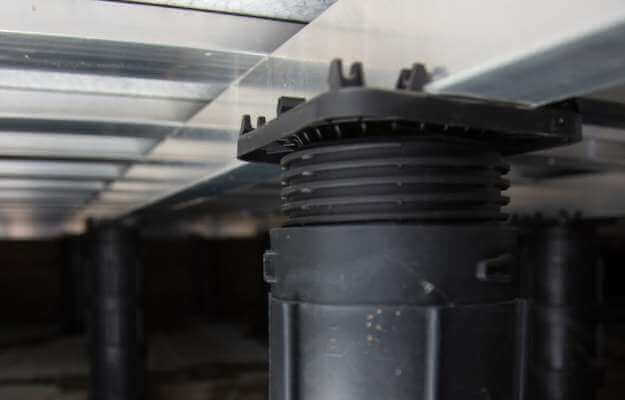 Height-adjustable pedestals
An initial grid layout of plastic or steel treated pedestals will be secured to the underlying base surface using an adhesive. These pedestals are adjustable and can be used to create a finished floor height that is level within an overall tolerance of ±3mm. This has several advantages. Most importantly, it allows the decking system to be installed on top of an uneven static base, as any discrepancies can be eliminated by carefully adjusting the height of individual pedestals. This often avoids the need to construct a new base, saving time and money. Pedestals can also be readjusted over time to ensure that the surface remains level. And, because they're made of plastic or specially treated steel, there's no need to worry about rust.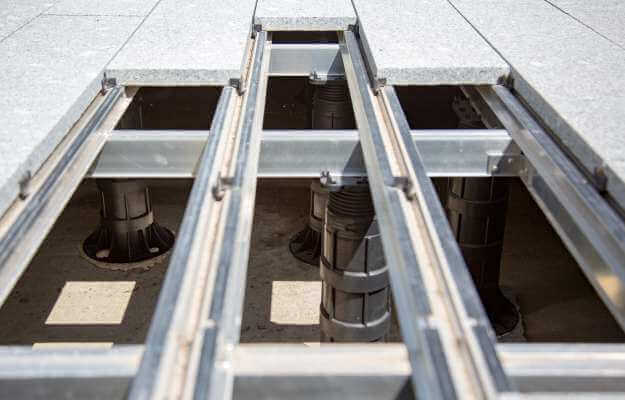 Supportive aluminium frame
An aluminium frame is placed on top of the pedestals to support the weight of the granite surface and create the void space. This frame is lightweight and rustproof, making it ideally suited to outdoor use. The layout of the frame will be tailored to the size of the granite planks, ensuring that they are securely held in place and, in the unlikely event of a breakage, won't fall into the void space below. This void is highly practical and can be used to conceal anything that you'd like to keep out of view, from fibreoptic and electrical cables through to pipework. The aluminium frame ensures that the entire decking system remains stable at all times, even if an entire section of the granite surface has been lifted out of place.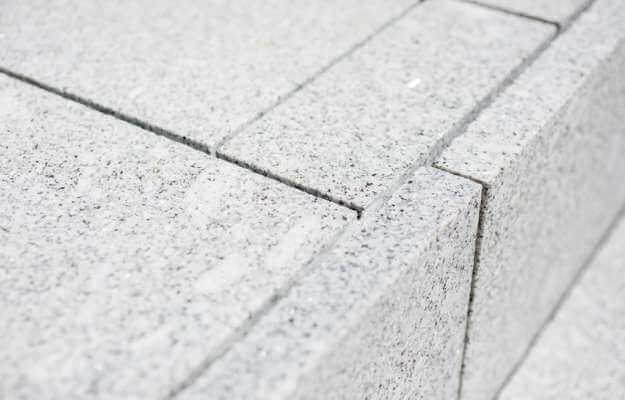 Durable granite planks
Finally, granite planks are laid over the aluminium frame to create the decking surface. Granite has a number of advantages as a decking material, but the key benefit is its excellent durability. This ensures that the surface can withstand years of use and makes it resistant to impact and harsh weather conditions, without detracting from its premium appearance. A small gap is left between adjacent planks so that water can drain away, preventing surface water build up. We currently offer four colour options for our granite decking and a choice between a sandblasted or flamed finish.
You decide
If you're interested in purchasing a granite decking system for your workplace or home, you can choose between our supply and installation services. The simple and straightforward nature of our decking systems makes them easy for you to install – we'll provide all the materials you need, along with a helpful installation guide. However, if you have a more complex project in mind, you may prefer to leave things in the hands of our experienced installation team. No matter which pathway you choose, all the components within your granite decking system will be covered by warranties so that you have peace of mind.
Contact
Granite Decking UK