We provide a hassle-free granite decking installation service for customers with large or complicated projects in mind. We'll work closely with you, supplying all the necessary materials and carrying out the installation on your behalf. You'll benefit from the expertise of our experienced installation team, guaranteeing that you receive a high-quality result without any hassle. The process is simple – just tell us your requirements and look forward to your finished granite decking system.
Tell us
about your project
If you have a project in mind, talk to a member of our team and we'll make sure that your granite decking system meets all your requirements.
You can call us on 0800 246 1222 or email sales@granitedecking.co.uk.
Rising to the challenge
If your project is large in scale, has highly specific requirements, or faces particular obstacles, we can help. We'll conduct a convenient site survey so that we can fully understand your requirements and determine how best to meet them. Whether you're an architect searching for a premium decking solution that will make the best use of an outdoor space, or a landscape designer facing major height differences throughout a garden, our team will provide the support you need to achieve your ideal outcome. Where necessary, we can even liaise with our quarry in Portugal to fulfil orders that require custom granite plank dimensions.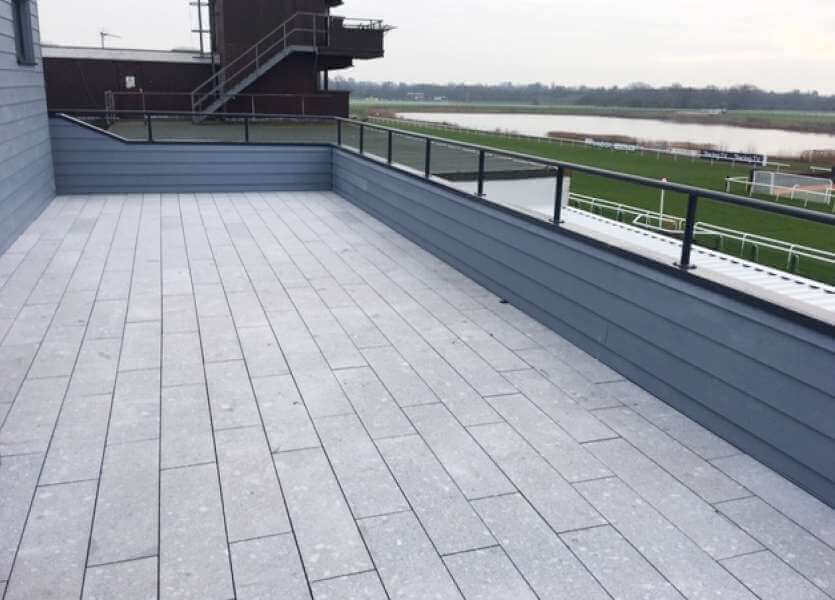 Taking the hassle out of the process
We'll manage the supply and installation process on your behalf. If you're busy dealing with other projects or you're concerned about self-installing your new decking, take advantage of our expertise. We've worked on projects of all sizes and will be happy to carry out the necessary work ourselves, giving you peace of mind that everything is in safe hands and freeing you up to focus on your other responsibilities. Our team will make sure that your project progresses smoothly, adapting their approach to your requirements so that any disruption can be kept to a minimum.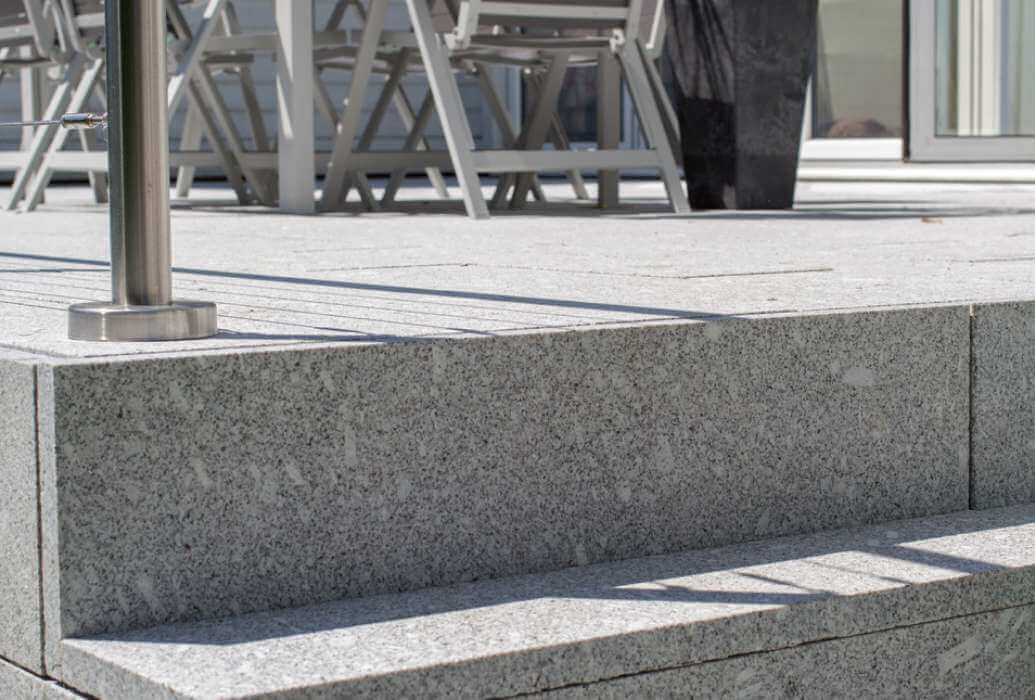 Putting our experience to good use
Our sister company, Fieldmans Access Floors Ltd, has successfully installed raised flooring since 1993, gaining extensive hands-on experience through a wide variety of flooring projects. The underlying support structure used within our granite decking systems is based on technology from this industry, so the Fieldmans installation team work on our projects too. This allows us to take full advantage of their knowledge and skills so that we can achieve the best possible result for our customers. Our well-established installation team provides reassurance that all our work will be completed efficiently and professionally.
Tools required for installing granite decking

Laser Level and/or Spirit Level






Grabo Floor Lifter (optional)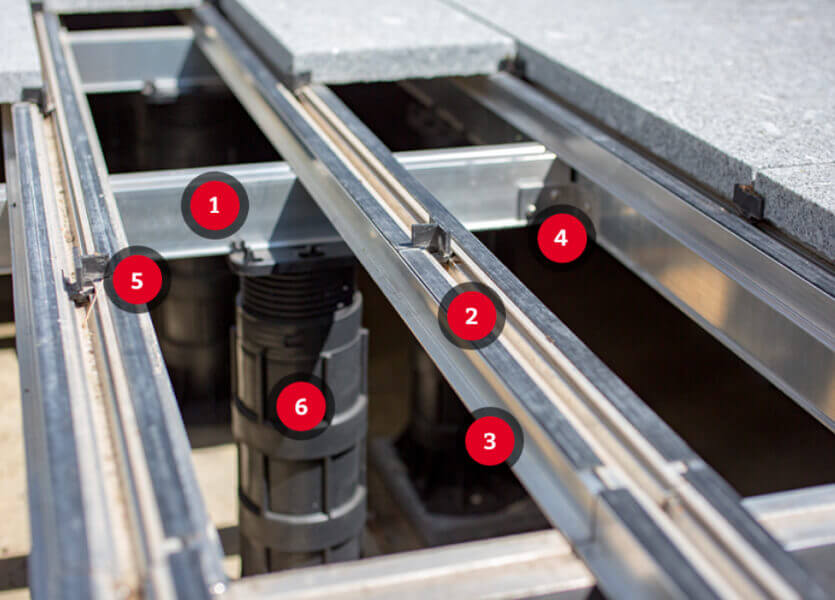 Granite decking components (excluding granite planks)
Primary rail
Top rail
Flange (part of top rail)
13mm self-drill screws.
Spacers
Pedestals
STEP 1
Lay Primary Rails out at .600mm centres in the opposite direction to your Granite Planks.
STEP 2
Place Primary Rails onto the pedestals, which are spaced at 1200mm centres and level in all directions with laser level.
STEP 3
Set first Primary Rail in from the edge of the area, so the Top Rail cantilevers 100mm over to edge of area
STEP 4
Place the first Top Rail at the edge of the area, perpendicular to the Primary Rails and fix to Primary Rails through the integral fixing Flange using 13mm Self –Drill screws. Attach side stops and end stops as required
STEP 5
Pre-Insert end stops and spacers into Top Rail (spacers can be moved along the Top Rail as the Granite Planks is moved into place and placed onto Primary Rail without fixing
STEP 6
Lay First Line of Granite Planks moving spacers to ends as required. NOTE: Fix Top Rail only once spacers have be abutted in the previous Granite Plank.
STEP 7
Repeat STEPS 5 & 6, fitting end and side stops as progress, until last Top Rail, then fix final side stops to complete and secure area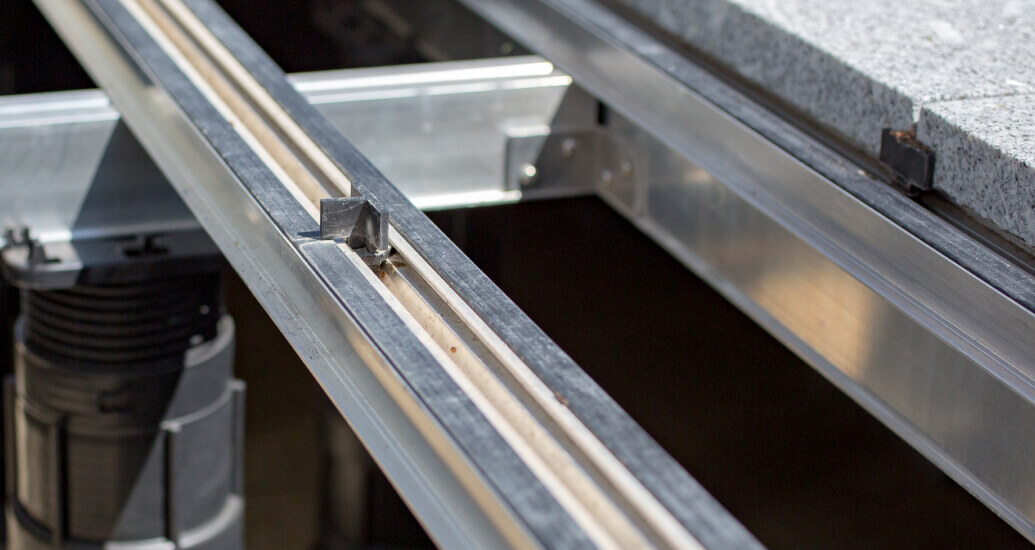 General fixing information:
Pedestal Spacing @ 1200mm
Primary Rail centres /Top Rail span @ 600mm
Top Rail spacing/centres dictated by size of Granite Planks.
Spacers:
Straight Spacers are used along edges
T Spacers are used internally
Side and end stops should be used on all perimeters of Granite Planks.
1mm Self –Adhesive EPDM pads available to aid any slight rocking which can occur due to specified tolerances in Granite Planks





Working safely and responsibly
We understand the importance of health and safety and we make sure that this is reflected within the work we carry out. Our in-house health, safety and environmental manager will produce a site-specific risk assessment and method statement for projects supplied and installed by us that outlines how we will keep employees and visitors safe. This will be provided from the start so that you can clearly follow our approach. As a professional organisation we also have the following accreditations that reflect the quality of our processes:

Contact
Granite Decking UK